Current Projects:
Under the direction of Deng Ajak Jongkuch, our cultural ambassador in South Sudan, Impact A Village  supported cataract surgeries, maternity clinics, and malaria treatment in remote areas of South Sudan. Funds were directed to the non-profit Partners in Compassionate Care in support of various medical and educational projects.
Past Projects:
Malek Primary School – The very first project that Impact A Village supported was the building of the Malek Primary School. In 2009, Deng Jongkuch, one of the Lost Boys of Sudan went to Sudan on behalf of Impact A Village to direct the building of a primary school in Malek, South Sudan. The elders of Malek agreed to donate and clear the land for the school in addition to having villagers help with the construction. Under the direction of Deng Jongkuch and a contractor, the community cleared the land, dug the foundation, made bricks from cement and sand, and built the walls of the school. All the materials for the school including cement, lumber, rebar, and roofing material were purchased by Impact A Village. The 5-room school was completed in 2010 and designed to hold 300 students. The cost for the school was $25,000, which was raised by generous donations to Impact A Village. The Malek Primary School is now operated by the government and over 600 students currently attend.
Since 2009, Impact A Village has supported projects that improve education and healthcare in communities around the world. In December 2023, Impact A Village ceased operations and is no longer accepting donations or making grants. Thank you for your support over the years.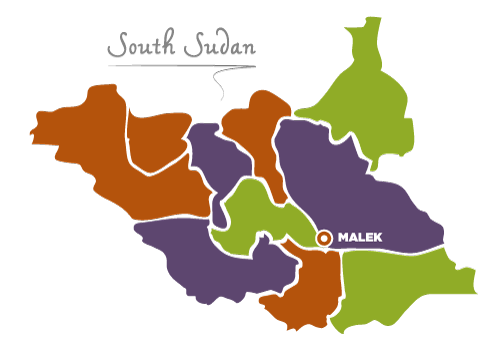 Building a School in Malek, South Sudan
The 20 year civil war in Sudan left the newly independent country of South Sudan practically devoid of infrastructure, services, or health care. The educational needs are urgent as Sudan currently has the lowest access to primary education in the world. According to UNICEF, only 33% of children between the ages of 7-14 go to school, only 10% of the girls go to school (the lowest rate in the world), and over 93% of all women in South Sudan are illiterate. Despite its independence, there continues to be conflict in South Sudan.