ImpactAVillage Ambassadors Around Our World
ImpactAVillage Abassadors
Around Our World
Kris Warner, the ImpactAVillage ambassador for Cambodia made an astounding, deeply spiritual journey that found him traveling from the United States all the way across the world to eventually meet his wife Naome and together start the Khmer Hands School in Kep, Cambodia. Through their dedication and inspiration, Khmer Hands is now a self-sustaining vocational school bringing hospitality and arts training to disadvantaged youth and single mothers. How did a quest so far from Kris's U.S. roots lead him to realize that this remote community was his destiny? A place that not only transformed his own life, but all those who connected with him as well? Kris was kind enough to let us interrupt his busy schedule to answer the many questions we couldn't stop asking him….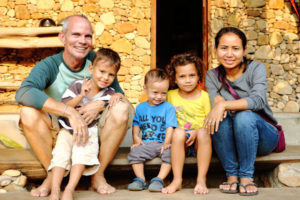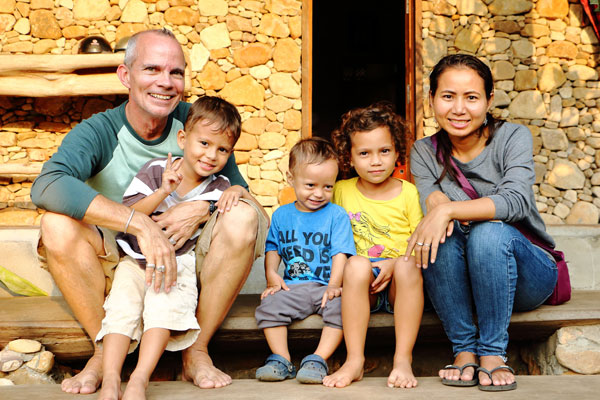 When and where did you begin your teaching/hospitality career?
First let me say that my mom comes from Sweden and my dad from the U.S., so I grew up with a little international DNA. Every couple of years we'd take trips to Sweden and other parts of Europe, and my parents gave me a taste for travel, experiencing different cultures, and meeting new people. So, I "blame†it on my mom and dad.
Can you elaborate on your tourism career?
Having traveled a bit, I felt hotels and the hospitality industry would open doors to living and working in different places around the world so I got a degree in Hotel and Restaurant Management from Cal Poly Pomona graduating in 1989. Just out of the university I got a job at the Ritz Carlton in Atlanta, Georgia; not the international location, but a beautiful place to work.
Ironically, what I discovered after being there a little over a year was that the more you climbed the ladder the more you moved away from the guests. In the beginning you work at reception, but soon you are on a computer and then on a computer in an office. These are important jobs too, but my heart is for people and being with them in some kind of face-to-face service capacity. As my wife Naome says, I just love to talk so I need to be with people and computers don't make the best conversation.
I was also working twelve to fourteen hours a day, as was everyone else. It wasn't the long hours, but the thought of how I would ever have a family if I worked days like these. This basically gave me the second reason for stepping away from hotels at that time.
Not knowing what the next career move would be, I decided to throw on a backpack and do one of those "find yourself†kind of trips. Having been through Europe a bit, and feeling I needed something a little exotic I decided on Southeast Asia.
This is when I fell in love with that part of the world, and really almost everything about it: the people, the food, the landscapes, the climate, the diversity, the bumpy dirt roads, the mosquito nets, the raised wood houses. I traveled for eight months with a three-piece suit and wing tips in the bottom of my backpack thinking I'd find some place to stop for an interview and possible work. The suit never came out of the bag, mostly because I was just enjoying traveling so much. After eight months and five countries, I was more or less out of money and decided to start heading home to California. But, I had one more stop. I'd met a couple Canadians while traveling who were living in Japan so I thought to stop and visit them. Within a few days of being there I found myself interviewing for, and accepting a job as an English teacher. Something, I'd never thought of or done before. The first few months were a little scary, not knowing what I was doing, but I loved it. I was back with people, enjoying seeing kids learn, and living in an amazingly interesting country. I stayed for nine years, from 1991 to 1999, and discovered teaching as my new found passion and profession.
From Japan, I took two major trips for seven to eight months exploring more of Asia. In the nineties, however, Cambodia was still unstable so I traveled through China, Vietnam, Laos, and Thailand…. basically circling Cambodia. I now look back thinking that Cambodia was being saved for my future.
I returned to California, and lived in San Francisco from 1999 to 2007. Being back in the states was great. I was with old friends, family, and surrounded by English so things were easy. I found jobs teaching English, but was back to the two-weeks a year vacation allowance provided by most U.S. businesses, which limited me and ultimately meant there was really no more traveling.
So, how did Cambodia come into the picture?
For me, 2004 was a year with a lot of peaks and valleys. I got a job teaching English to international students at the Academy of Art University, which I loved and an added plus was that it also came with a six-week summer break, which opened the possibility to travel once again. That said, I was also sadly facing some hefty personal challenges–going through a divorce from a Japanese woman, my mom was diagnosed with cancer, and I was deciding to close a small travel English business that I had started. So, I was struggling.
But, here is where life also changed for me. I asked a close friend about a church she was going to and, learning more about it, began attending it as well. Over a little time going to that church offered me peace with the struggles I was facing. It wasn't long before my divorce settled, my mom was treated and cured, and I began to open myself up to God's future plans for my life.
One morning while thinking about where to go for my upcoming summer break, I prayed and asked God to put something in my hands. I still wasn't sure if I'd hear His voice if He whispered a country. I thought about Cambodia and Vanuatu Island. I chose those two–Cambodia because it was a place I'd circled many years earlier and Vanuatu because it just sounded like a cool tropical spot.
About two hours later, I arrived at my office in AAU, and a friend, Sherise Lee, called me to her office to ask a couple questions about a class. When we'd finished talking she reached down and then handed me a calendar a friend had put together. In my hands, across the top of the calendar it said "Cambodiaâ€, and each page was filled with pictures of kids. Then I heard a little inner voice say, "Does that work?†It did. So, with that I booked my ticket to Cambodia for the summer of 2005.
My eyes on this trip were different and I was much more focused on the people, and less on the sights to be seen. I visited the Stung Mean Che dump and saw kids standing on mountains of smoldering trash. They and their parents were digging through the rubbish for anything that could be sold or recycled. Parents bribed the trash truck drivers to let them dig through that truck's load first before anyone else. Kids rented headlamps so they could work at night. I visited an NGO school started by a French couple that was feeding, clothing, and educating 2,000 kids. In different restaurants and coffee shops where I ate, I heard conversations about landmine victims, HIV sufferers, street kids, single moms and widows. So, here I was in a country I knew little about, but in a part of the world that I loved, seeing and hearing stories of people in need and people working to bring relief. I didn't know what I could do; I just knew I wanted to be here.
When I returned to San Francisco I immediately started researching and quickly connected with FCOP (Foursquare Children of Promise) a church/orphan home where I thought that I might be able to help with their education program. Soon, I began regular emails with their school director.
Feeling a great sense of peace, I had no concerns, I just wanted to go and get started. After a couple months of consistent emailing, the correspondence from the school director just stopped. I was confused, I felt God had just prepared the path and then it abruptly came to a dead end. However, later in prayer I heard Him say, "You're not going without Meâ€. I understood that this was the future He wanted for me, but I wouldn't be able to do it, to face the challenges of living life in Cambodia, without Him. I see that now. So, for two years I stayed in San Francisco, taught at the university, attended church and built my relationship with the Father.
Finally, in 2007 I felt the door open again, and visited Cambodia for my summer break: this trip spending time at FCOP. I subsequently returned to San Francisco, sold all of my belongings and two months later, in November, I moved to Cambodia as a volunteer English teacher for the orphans growing up in FCOP.
One of the biggest challenges here is seeing the injustice, the complete inequities in which police collect one or two dollar bribes for fines from the poor who make small traffic violations, while the rich drive straight through red lights. The police are afraid to stop them. This is just a simple example, but the poor have lost their land, their homes, to the rich and those well connected. Everyday, you experience things that cause frustration; 'fees' that need to be paid to maintain the school, or signed contracts that are completely disregarded. But, I think I now have a 'big picture' and 'small picture' approach. I let God take care of the big picture while I focus on the student, or students, in front of me. Life is about relationships; we were made to be in them, and we build them one at a time.
In a prayer God gave me strength by showing me Love written with a capital 'L'. The vertical line represents our relationship with Him and the horizontal line represents what He has designed us to do, which is reach out to others. If we have love with a small 'l' we have relationship with the Father but are not following how He has designed us. And, if we just have the horizontal line we are trying to help others out of our own power and will soon be burned out. So, everyday I go to the Father to be filled by His strength, which helps manage the concerns or frustrations of that day.
On the not so challenging side, Cambodia has great coffee, and an ever-growing international population, which bring a wonderful variety of food to go along with the excellent Khmer cuisine. Most of all, I have been blessed with an amazing wife and three beautiful children who make me smile and laugh everyday.
When and where did you meet Naome?
Naome is Cambodian; she grew up under very different circumstances than my own. She lost her mother when she was two. Her mother was killed by a stray bullet from the gun of a drunken neighbor who was just randomly shooting in different directions. Her father passed away when she was seven due to an unknown illness and limited medical care in the Cambodian countryside. Naome's grandparents, not having the resources to care for her, brought her to Phnom Penh where she grew up in a church orphan home. This is where I met her many years later in 2007.
I knew Naome by sight and simple passing conversation, but two years later when God answered my prayers for a partner He opened my eyes to such a lovely soul. I approached the director, Sue, to see if it were okay that to ask Naome out for a coffee. Sue said yes, but we would need to be engaged so as not to bring gossip or suspect to Naome's reputation. I gulped and I prayed. Twenty-four hours later I said okay to Sue. She then talked with Naome and three weeks later we had an engagement ceremony in front of the church, and three months later we were married. In May this year, we will have been married nine years. We have three amazing kids, and are so blessed to be able to live a life that we feel God has designed for us.
What are the greatest frustrations?
I mentioned earlier that one of the biggest frustrations is seeing the injustice surrounding us every day and having to deal with the feelings of being able to do little about it. But, then I am reminded to focus on the person in front of me. About a year ago I read this statement; 'Attention is the purest and rarest form of generosity.' And, I always tell my kids that God gave us two ears and one mouth so we need to listen more to others and speak less (I need to follow my own advice, I know). It reminds me that my job, my responsibility, is simply to pay attention, listen and pour into those around me with the best of my ability and hopefully, prayerfully, they will pour into others around them.
My other challenge or frustration is simply about pace. When you have some answers or can see what you feel would work best you want progress. You want that leap forward to happen so much faster. Roughly 50% of the Cambodian population is under 22 years old. So the population is very young and I guess sometimes learning only comes through personal trial and error. We have to come along side each other; we show, we guide, but we don't push. Some life changes that we'd like to see for others can take a little longer or come with a few more scrapes and bruises than we'd prefer, which can be a little frustrating; and some things we need to learn to do a different way ourselves.
There is an 85% dropout rate for kids at grade 9–the transition from middle school to high school. This is in part because the department of education would like to follow an international standard, which sounds good, but the kids do not have the support structure here to help them through the difficult subjects; parents didn't go to school, older brothers and sisters dropped out of school, and tutors, if available, cost money. In the countryside, parents often don't push or encourage their kids to continue school saying that the kids have reached fifteen to sixteen years old so they can begin to look for jobs that will support the family. However, any available jobs for these kids are going to be the most dangerous and least paid. I would love to see the country adopt a plan that incorporates more vocational training school options. I believe vocational training school would better fit Cambodia's current stage of development. That would suit the 'hands-on' way kids learn best here, and would bring the country more skilled workers.
But, again, Naome and I remind ourselves to focus on our sphere of influence, our students, our staff, and our community; and hopefully encourage a ripple effect of sorts.
What are the greatest joys?
My greatest joy is when I hear from a guest; 'please tell Srey Ya, the chef, how delicious the food was', or 'please say thank you to Nary, your reception manager, for taking such good care of us.'
Our students grow up in extreme poverty, and often in large families. They very seldom hear words of encouragement so I just love sharing these words, or having the guest share with the students directly. You won't see these kids with a bigger smile, or someone stand up a little taller than when they receive this wonderful direct praise and appreciation for their efforts.
I also just love seeing our students' lives grow and positive life decisions being made. We've had four students get married in the last year, and two more will get married this year. Three students also now have children; and all are diligently managing their money, saving toward building their own small homes.
What is it about the people there that have touched you so much?
What has touched my heart? Their smiles, their laughter, their songs, their ability to sing away hardship and difficulty. Life leans toward simplicity and contentment. If someone has a little extra money they would rather have a small party than save it for a rainy day, which of course can bring its own challenges, but there is also joy in the moment. There is a strong social element in the culture; people go where others are, they enjoy spending time with family and in groups. The natural way of thinking here is: 'There is always room for one more'. You can't walk past a table of strangers having a meal without them inviting you to join them. I love people, Khmer food, and talking so this has always been hard for me to pass up.
Tell us about some of your favorite success stories you've been able to make happen because of the school and ImpactAVillage?
Strength, courage and integrity are defined by Sahie, one of our beloved students. Her father abandoned the family while her mother was still pregnant with Sahie due in part to her mother's struggle with mental illness. Beyond spending years to help support her mother, Sahie was hit by an undiagnosed illness that left her fatigued and bedridden for months. Bed in Cambodia is not always what we may think of, for Sahie it was a mat on the dirt floor of their family hut.
During this time, while both she and her mom struggled for health, Kim our amazing Khmer Hands РArts Caf̩ manager and trainer was there for them with whatever support he could provide. And, when Sahie had regained some strength and once again needed to find work to support her mom, Kim introduced her to us.
What a great day! For all her hardship and challenge, Sahie is sunshine. She smiles, she laughs, she glows, she is eager to learn English and her new job-skills. She is caring, conscientious, and courageous as she plunges into each new day. This month she will make her last payment on a loan from a neighbor, which covered her medical costs and which reveals further her character and profound integrity. We are so happy to have Sahie and Kim with us. They are two amazing, love and joy-filled young people.
Tell us about how you created the school and why? How has ImpactAVillage helped you in doing what you love doing with the school?
Naome and I had visited this town of Kep many times as a weekend retreat from living in Phnom Penh. The more we visited the more we learned about Kep's history and felt a desire to be here. After the fall of the Khmer Rouge, the country began to rebuild. Money was poured into the capitol of Phnom Penh, to the coastal town of Sihanoukville and the port, as well as Battambong in the center of the country, which is Cambodia's agricultural core. However, Kep as a former resort destination during the French colonial times was completely abandoned, forgotten about. So the local schools, even though there were students attending, looked destroyed. Education levels were the lowest in the country. That said, there was a growing seed of tourism as Kep was also being rediscovered for its quiet, natural beauty along Cambodia's coast.
It was faith though that had Naome and me make an offer on a piece of land here even when we barely had any money. Still, we believed this was the place God had prepared for the School of Arts and Hospitality that had been on our hearts. With the communities growing numerous small hotels and the need for educational opportunities, it seemed to make sense. With just $4,000 in the bank we made an offer of $70,000 for a half-acre sized piece of jungle on the hillside of Kep National Park. Then we went into fervent prayer mode. And our prayers were answered time and time again, as just before money was due to be paid a donation would arrive.
We moved to Kep in July of 2013 and in 2014 we opened having cleared the land, built a large grass bungalow for a school and four grass huts as guest accommodation. Our goal has always been to build a fully self-sustaining school and any new projects needed to be self-sustaining. Not only do we want donors to see value in their investment, we want this to serve as a teaching point for our students.
ImpactAVillage has been an answer to prayer. We have been able to repair, maintain and grow. We just finished replacing the roof over our laundry and work area, which was nearly blown off during last year's heavy rainy season; retaining walls have also been built to manage the flood waters that can also come at this time of year. With the help of ImpactAVillage, we were so happy to have been able to create our sewing program, with full-time sewing teacher, five machines and more than a dozen young women learning how to design, cut and sew clothes and bags. After graduating they will be able to open small businesses within their respective villages while they also continue to receive an income from us for sewing items sold in our boutique. We are proud to say that sales from the boutique, as well as selling on consignment in a number of local resorts, have made the sewing program fully self-sustaining.
ImpactAVillage has also helped us be able to reach in to our surrounding villages to discover locally made traditional crafts. We are able to buy traditional products as well as work with the makers to create versions of these traditional crafts that further catch the eye of tourists. We have recently found and support a family that is making bamboo straws, which is exciting because this also has an environment impact as well.
So, ImpactAVillage has been a vital partner in providing both peace, and the joy of being able to reach farther into our community and, we hope, enrich their lives.
What gives you hope?
God gives me hope, seeing our students everyday gives me hope, seeing their smiles, being a part of their lives, hearing their stories, watching their own families grow gives me hope. God will take care of the big picture. I will do my best to focus on the people in front of me, and ImpactAVillage gives me the hope that we can do just that!
What are your big picture plans?
I have become a little more Cambodia and focus more on the moment. And, as the bible says 'tomorrow will have its own worries'. So, in a way, I have stopped making to-do lists because what I get done at the end of a day is often ten different things than were on my list, but at least things got done which needed to be done.
Dreams-wise, I would love to add more classes to our curriculum. Cambodia has a tradition of woodcarving and I would love to create a class that taught woodcarving and furniture making; combining both the creative and the practical. Again, any new class needs to be self-sustaining and this would be a good fit for our growing number of hotels, restaurants, and residents.
Beyond this I would ultimately love to create a school that offered a wide variety of arts, including traditional dance and music; allowing our local youth and those farther out to discover and develop their personal area of creativity as well as learn how to turn it into a rewarding career. This of course will require time, land, and resources, but that is the big picture stuff God puts together.